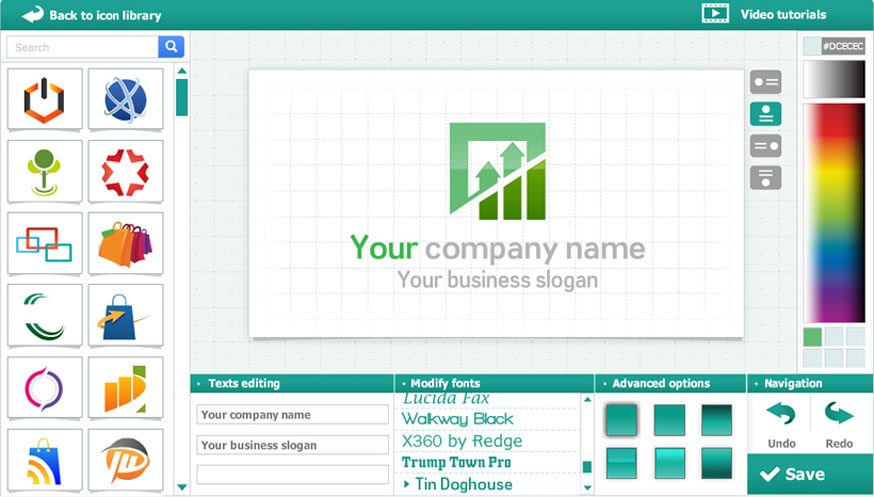 Online Logo Creator for your Company Logo
Ok so you have created your company and gotten all the paper work out of the way. The next step is working on your business identity. The first thing you are going to need is a logo! Designing a logo with a strong identity isn't an easy task. It takes a lot of design know-how and original ideas. Your logo must be minimalist, clear and readable. I lot of companies tend to get that mixed up along the way. Finding the right font is essential. Your company name must be readable from close up and from a distance. Your company name needs to be catchy and easily memorized.
It is recommended that you favor bolder fonts! Calligraphic fonts for example should be avoided, they often create problems when printed and are also harder to read on smaller formats… The choice of icon is also important. Your icon must be minimalist and symbolize your company. If you've just started you company and are looking to design a quick logo without breaking your budget, then try design your logo online! There are a number of quality online logo design sites on the web including Logogenie, Squarespace and Graphicsprings. The design process is easy! Simply choose an industry, enter your company name and slogan, choose an icon and let the site take care of the rest for you. The great thing about the online logo tools is that it will recommend you the right fonts to use and adapts the colors and the logo layout in order to make the design look professional. The logo maker basically does all the hard work for you!
Online logo design sites should provide you with :
Original online tools and logo templates
Once you've added your company details, most online logo design sites will offer you a variety of logo templates. Most sites filter the templates by industry. These templates should be customizable. Using the online editing tools you should be able to change colors, fonts, transform shapes and add effects.
Font selection
When you design your logo, you should be able to choose from a selection of adapted fonts. Most sites will offer preselected fonts which blend with the logo templates. If you need to change the fonts, the online tools should enable you to do that.

Logo icons

Using the right logo icon is important. Most online logo design sites will provide you will a selection of icons sorted by style and industry. You should be able to personalize the icon using the online design tools. Most systems offer colors modification tools, transformation of icon shapes, and effects.
Graphic file information
Most online logo design sites offer full logo packages with high definition JPG, PNG, PDF files. The deliverables also include EPS vector options for all your printing needs. EPS files are exported from Adobe Illustrator. This format is very important when printing as it allows you to create extra-large printed supports without losing quality. The format uses vectors which are resizable unlike pixels. Most printing companies will ask for a EPS vector file in order to avoid any definition problems.